Purchase any of the below works in person at the Hawaii Kai Retirement Center bookstore and receive 10% off the price.
A Whale's Tale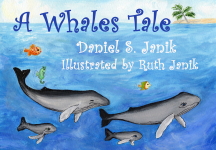 $ 12.95 USD
A WHALE'S TALE (2009) by Daniel S. Janik (Illustrated by Ruth R. Janik) - 92 pp. 8.25" x 5" Special Size Softcover - 20 B&W "Color-Me-Please" Illustrations - ISBN 978-1-4421050-6-5
The adventures of a juvenile humpback whale on his way from Hawaii to Alaska as told by his childhood sweetheart. Written for adults to read aloud to their children, and youth to 16 years of age to read and enjoy. The first in the Savant "Color-Me-Please" series.
HOLLYWOOD BOOK FESTIVAL AWARD
Above price includes standard shipping anywhere in the USA including Alaska and Hawaii
Also available internationally from Amazon.com in paperback, Kindle eBook and Audible Formats
Consider also purchasing the "Read-to-Me" Companion CD!
Aloha From Coffee Island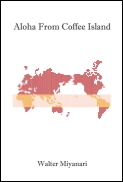 $ 22.95 USD
ALOHA FROM COFFEE ISLAND (2013) - Second Edition
by Walter Miyanari
108 pp. 6" x 9" Softcover Tradebook
9 B&W and 13 COLOR Photos ISBN 9780988664029
A primer on the most delicious drink in the work, coffee, from history to growing to roasting and serving. Includes a list and description of the world's main coffees, including a unique, made-in-America blend used exclusively by Cafe Brew in Honolulu, Hawaii, USA. Required reading for all Cafe Brew employees.

FREE SHIPPING ANYWHERE WITHIN THE USA INCLUDING ALASKA AND HAWAII. Allow 3 weeks (typical delivery time 7 days).

Reviews (pending)

Also available internationally from Amazon.com in softcover book and Kindle eBook format a

Press Release (pending)